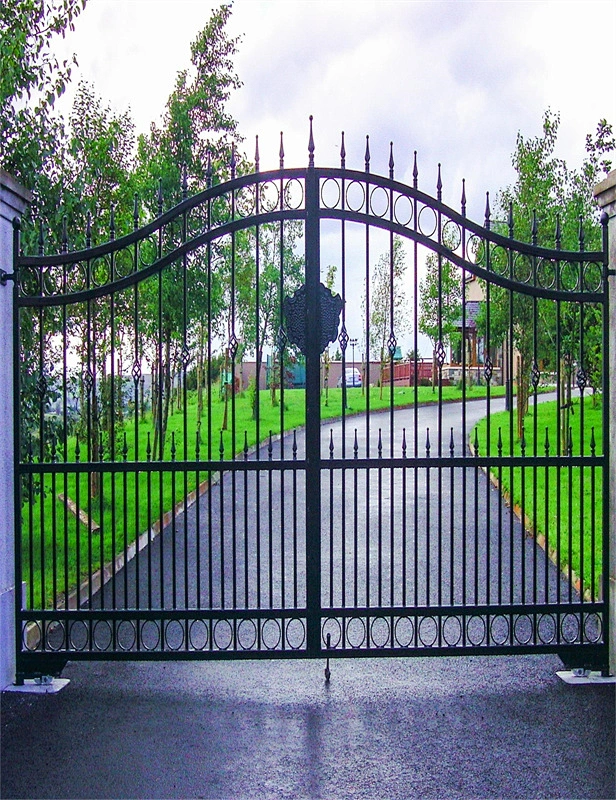 Double Swing Driveway Security Gate Steel Fence Gate
1.Experienced master do the forging and bending, make sure every curve is vivid and elegant.
2.After welding and polishing, we hot-dip galvanize our products, to make sure outdoors rust prevention for more than 20 years .
3.We focuse on every details, polish carefully again and again, make sure every door is a perfect door.
Double Swing Driveway Security Gate is also called metal fence gate,front gates entrance gate,picket fence gate,aluminum driveway gates,swing gate,aluminum fence gate,retractable driveway gate,cheap driveway gates.
After a number of special technology treatments, Double Swing Driveway Security Gate have excellent corrosion resistance, moisture resistance, weather resistance, and long-term surface self-cleaning ability. No matter what kind of harsh environment, The metal fence gate will not rust, fade, crack, powder, aging, fall off, etc. The picket fence gate will always keep the bright color, completely eliminate the daily maintenance of guardrail caused by trouble.
The aluminum driveway gates can be made by iron and Aluminum Alloy. We can design and produce front gates entrance gate, swing gate, cheap driveway gates, Double Swing Driveway Security Gate,retractable driveway gate,picket fence gate, aluminum fence gate according to your requirements. Ten years warranty.
metal fence gate/front gates entrance gate/picket fence gate/aluminum driveway gates/swing gate/aluminum fence gate/retractable driveway gate/cheap driveway gates/metal fence gate/front gates entrance gate/Double Swing Driveway Security Gate/aluminum driveway gates/swing gate/aluminum fence gate/retractable driveway gate/cheap driveway gatesmetal fence gate/front gates entrance gate/picket fence gate/Double Swing Driveway Security Gate/aluminum driveway gates/swing gate/aluminum fence gate/retractable driveway gate/cheap driveway gates