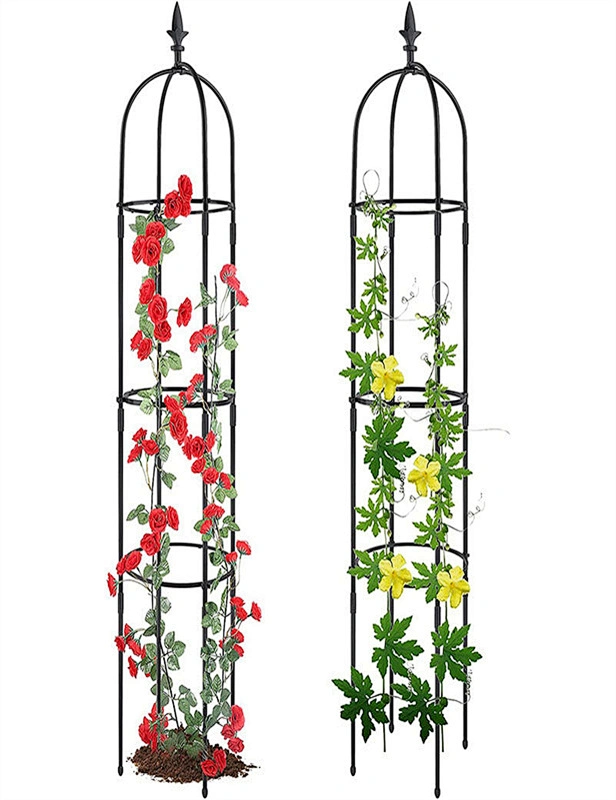 Garden Trellis for Climbing Plants Outdoor
Rust-proof & Weather-resistant - Metal poles with a plastic casing that contains UV inhibitors to resist sun damage and fading, gentle to plant stems. The plant support trellis is rust-proof, with 3 adjustable plastic support rings.
Sturdy Yet Lightweight - The garden trellis is quite tall and a good width yet lightweight, buried into the ground or large pot for the best stability in your garden, backyard, patio, or corner of your living room, hold up in high winds and heavy rain. Note: Pre-drill holes in the ground to help push them into the ground.
The Garden Trellis are made of heavy-duty black coated anti-rust plastics, which can prevent the internal iron pipes from rusting, resist the influence of weather, and garden trellises for climbing plants.
The Garden Trellis for Climbing Plants can be assembled quickly without tools and screws. You only need to assemble the plant support grid from top to bottom. The Garden Trellis are also easy to disassemble and easy to store.
The plant support elegant and simple design adds vitality to your plants and allows you to enjoy the fun of planting. The tower obelisks plant lattice adds a stylish and natural atmosphere to your yard, and provides a firm climbing support for flowering vines, vegetables, and fruits.
The plant support is very suitable for your growers at the edge of the courtyard or the border of the garden. The plant support is for various types of climbing plants and potted plants, such as tomatoes, vines, and roses , Vegetables, fruits, ivy, morning glorys and other plants.
Garden Trellis/