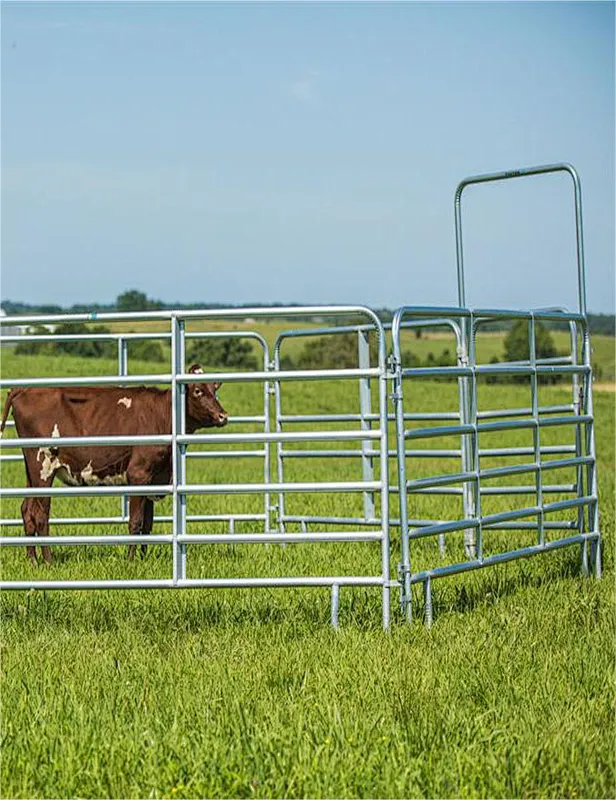 High Quality Welded livestock Fence PanelFor Farm Easy to Disassemble
1.Welded one piece steel construction, Virtually maintenance free, Sag resistant, Easy to erect, no stretching;
2.High zinc or PVC coated make the fence durable;
3.Connection with welded to bracket lugs and joining pins, no need to dig holes or lay foundations;
4. And it benefits grassland protection.no sharp edge, very smooth welding spot finish.
5. Cattle panel, it can be customized in various sizes, not only panels, we will also provide gate, post, farm fence etc for you, from the design to the final product application, we will serve you throughout the process and provide you with an ideal solution.
Welded livestock Fence Panel is also known as farm fence, field fence, goat fence,pipe fence,cattle yard, portable cattle yard panel,cattle panel, horse fence, sheep fencing, livestock fencing and corral fence. Welded livestock Fence Panel is made of square, oval or round tube, it is mainly used as portable or permanent fencing.
The Welded livestock Fence Panel is offered in a variety of heights, lengths, and number of rails.The corral panel
is appealing, safe, easy to install.and extremely long lasting, good for permanent feedlot dividers, pens, horse round pens and arenas, portable horse stalls, perimeter/line fencing and a variety of other uses.
We supply the horse fence,farm fence,field fence,goat fence,pipe fence,sheep fencing,portable cattle yard panel and gate at a competitive price at great quality.
corral panel,horse fence,farm fence,field fence,goat fence,pipe fence,sheep fencing,portable cattle yard panel,corral panel,horse fence,farm fence,field fence,goat fence,pipe fence,sheep fencing,portable cattle yard panel,Welded livestock Fence Panel,corral panel