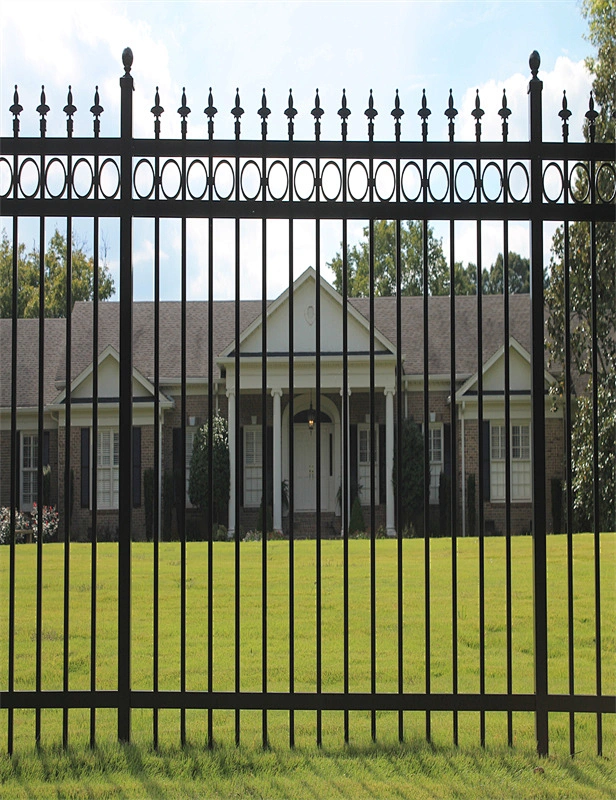 Hot Sale Rings Adornment Steel Fence Galvanised Powder Coated Black
1.Zinc phosphate pre-treatment Promote the adhesion between the steel and coating film;
2.Zinc-rich epoxy powder coating has long-term anti-impact and anti-corrosion, ensuring a service life of more than 10 years;
3.Timely and effective after service;
4.Strict quality control system on the whole production process to make sure each product will meet client's requirements.
Rings Adornment Steel Fence has a lot of decorative rings, which not only guarantees its strength, but also adds a certain aesthetic quality. The Rings Adornment Steel Fence is manufactured using the highest-strength steel pickets and rails, and are available in a wide range of sizes and styles. The steel fence panels are attached with high-strength steel brackets to galvanized and powder-coated square tubular steel posts. 
Rings Adornment Steel Fence is also known as ,iron fence,rod iron fence,backyard fence,modern fence.The modern fence widely used in schools, villas, community, gardens, factories and other flower beds, lawns, industrial and mining enterprises, financial institutions, sports stadiums, convention centers, squares, roads, balconies, residential use.We supply the modern fence,steel fence,rod iron fence,backyard fence,
and gate at a competitive price at great quality.
cheap fencing/rod iron fence/steel fence/backyard fence/cheap fencing/rod iron fence/steel fence/backyard fence/
Rings Adornment Steel Fence/cheap fencing/modern fence/cheap fencing