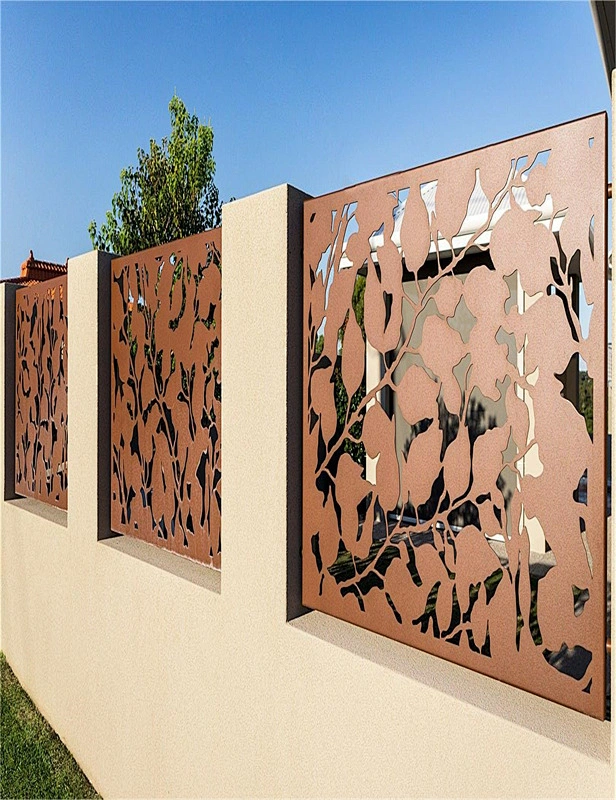 Modern Villa Garden Decorative Laser Cut Aluminum Fence
Outdoor Privacy Screen offers a high level of privacy for your backyard in a modern inspired design, which leaves beautiful light patterns when the sun shines through.
Laser Cut Aluminum Fence is also known as outdoor privacy screen,decorative screen wall panels,decorative garden fencing,aluminum decorative fence. Laser Cut Aluminum Fence is suitable for you to improve the environment around and increase the desirability of your space.
Made of 2mm galvanized steel and coated with robust and scratch-resistant powder, the aluminum decorative fence will be certainly durable and sturdy. The decorative screen wall panelsFeaturing precision laser cut from thick gauge galvanized steel and treated with UV inhibitors,the outdoor divider will not fade.
We offer various unique modern patterns,which are created by our experienced design team and can be used in either residential or commercial spaces.With the patterns on it,the outdoor privacy screen can block the wind or sunshine you don't want, and provide a more comfortable environment for you and your family. 
Laser Cut Aluminum Fence/decorative screen wall panels/decorative garden fencing/aluminum decorative fence/outdoor privacy screen/decorative garden fencing/Laser Cut Aluminum Fence/decorative screen wall panels/decorative garden fencing/aluminum decorative fence/outdoor privacy screen