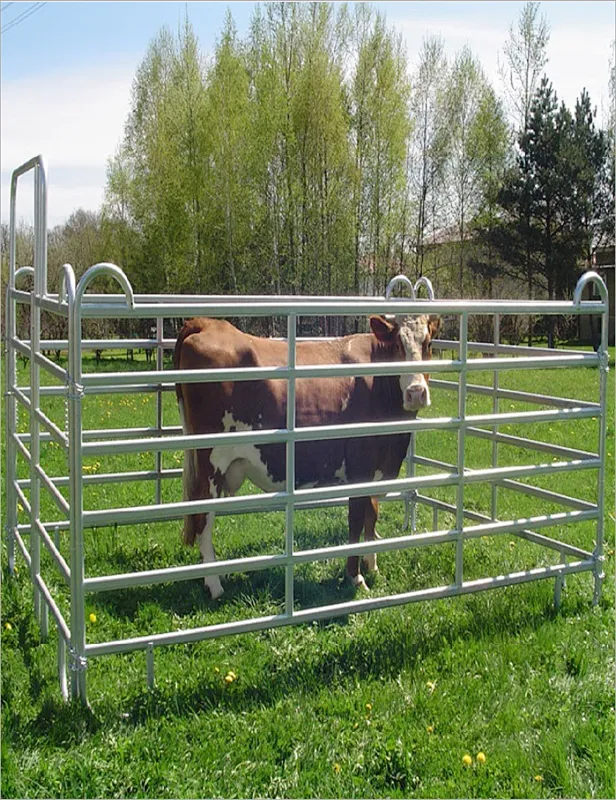 Portable Galvanized Pipe Corral Roung Pen for Livestock
1. Corral or horse pen are made from heavy duty steel tubes. They are welded by 360 degrees. The sturdy structure makes horse panels stable and not easy to break.
2. The galvanized and painted coated surface make the panels anti-corrosion & rust and long service life.
3. The pen are jointed with pin latches or chains. The J-legs and metal base enable the fence panels to stand freely without the need to dig holes on ground or lay foundations.
4. The panels are galvanized and polished without sharp edges. Thereby, the panels will not cause injury to your horses.
5. The corral or cattle pen tubes are available in round tubes, square tubes and oval tubes with different sizes.
Corral Roung Pen is also called corral pen,corral panel.The Corral Roung Pen is made from heavy gauge steel pipe design with a strong vertical centre support in the middle to make the panels structure stronger. corral panel is hot-dipped galvanized for maximum corrosion resistance and long life durability. Our corral panel is very easy to set up and dismantle,corral pen has 3-7 rails to support the fence and each rails have different spacing to prevent horse hooves and feet from catching in the fence.which are perfect for rounding up cattle or sheep in the fields, penning calves, horse runs and arenas, perimeter fencing.
corral pen/Corral Roung Pen