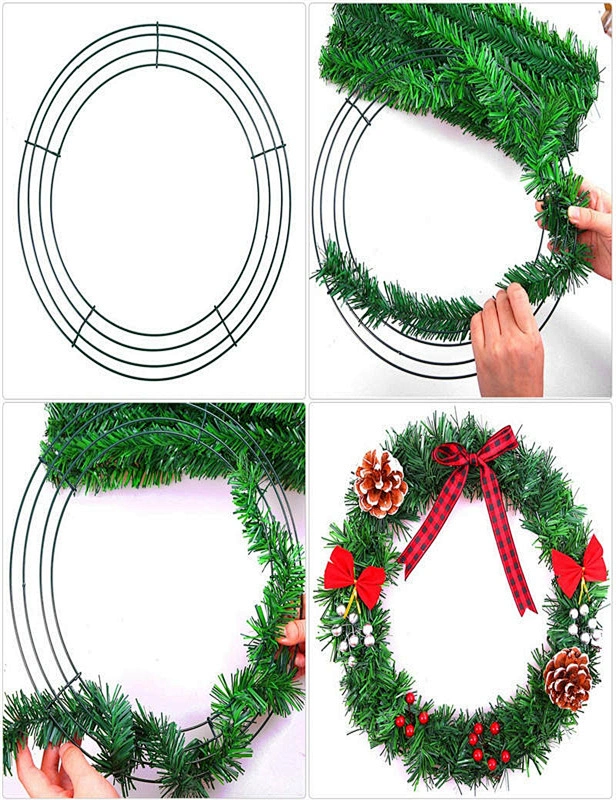 Flat Wire Wreath Ring Frames
The frame is made out of metal, with two circles attached to four rods for stability and greater focus on each section. Apply different types of picks and embellishments in order to make your wreath blossom into a unique, home-made decoration!
From Christmas to Halloween, this robust frame is perfect for an assortment of different wraps, projects and weavings to personalise your events. A beautifully simply and unique way of starting off your festive wreaths, add a variety of flowers, plants, ribbons and more to make your decoration into something special.
Floral Hoop Wreath is also called metal floral hoop wreath,flat wire wreath ring frame
.
Our Floral Hoop Wreath making supplies is solid wire, the wire frame is sturdy and easy to hang. The flat wire wreath ring frame is made of high-quality metal and processed by welding technology. Floral Hoop Wreath is coated with a layer of green paint. It is smooth, waterproof, durable and not easy to rust
You can use ribbons, plants and other materials wrapped around the metal garland frame to make any exquisite handicrafts, thereby improving your hands-on ability and creativity. The handicrafts you make will always be unique
The flat wire wreath ring frame allows you to easily wrap various things, such as Christmas trees, wooden clips, flowers, garlands, silk or other decorations. Our metal floral hoop wreath are solid bases. Even novices can easily get started and make satisfying works of art
Suitable for indoor and outdoor applications, you can decorate your house, front door, garden, window, terrace, etc., and even hang them on any eaves or ceiling.
metal floral hoop wreath/flat wire wreath ring frame/Floral Hoop Wreath/metal floral hoop wreath/flat wire wreath ring frame/Floral Hoop Wreath/metal floral hoop wreath