Pvc Coated Galvanized Gabion Mesh Sell in Bulk
1.Just fill the stone into the gabions and seal it. Simple installation. No special technology needed;
2.Weather proof under natural destroys corrosion resistant;
3.No collapse even under big scope of deforming;
4.Sludge in the stones is good for plant growing. Mixed to form a integrity with the natural environment;
5.Good permeation can prevent the damage by hydrostatic;
6.Less transport freight. It can be folded together for transport and further installation.
The welded mesh gabion is also named Gabion Mesh,gabion basket, gabion cage,gabion fence,, gabion boxe, gabion basket, galfan coated welded gabions, gabion wall and etc.
The welded mesh gabion is made from welded wire mesh panels assembled with springs or C-clips and spacer.The welded mesh gabion is widely used in retaining wall structure, rockfall and soil protection and so on. The welded gabion are filled on site with hard and durable stone to form mass gravity structures. And the gabion cage is more quicker and simpler to be installed than woven mesh gabions. 
Corrosion Protection

Galvanized

95% Zinc + 5% Alu

PVC Coated

Mesh Size

50.8 x 50.8mm




76.2 x76.2mm

50.8 x 50.8mm




76.2 x76.2mm

50.8 x 50.8mm




76.2 x76.2mm

Unite Size

Wire Diameter

Wire Diameter

Wire Diameter

1 x 1 x 1m

3.0mm,4.0mm,5.0mm

3.0mm,4.0mm,5.0mm

3.0mm/3.8mm

2 x 1x 1m

3.0mm,4.0mm,5.0mm

3.0mm,4.0mm,5.0mm

3.0mm/3.8mm

3x 1 x 1m

3.0mm,4.0mm,5.0mm

3.0mm,4.0mm,5.0mm

3.0mm/3.8mm

4 x 1 x 1m

3.0mm,4.0mm,5.0mm

3.0mm,4.0mm,5.0mm

3.0mm/3.8mm

1 x 1 x 0.5m

3.0mm,4.0mm,5.0mm

3.0mm,4.0mm,5.0mm

3.0mm/3.8mm

2 x 1x 0.5m

3.0mm,4.0mm,5.0mm

3.0mm,4.0mm,5.0mm

3.0mm/3.8mm

3x 1 x 0.5m

3.0mm,4.0mm,5.0mm

3.0mm,4.0mm,5.0mm

3.0mm/3.8mm

4 x 1 x 0.5m

3.0mm,4.0mm,5.0mm

3.0mm,4.0mm,5.0mm

3.0mm/3.8mm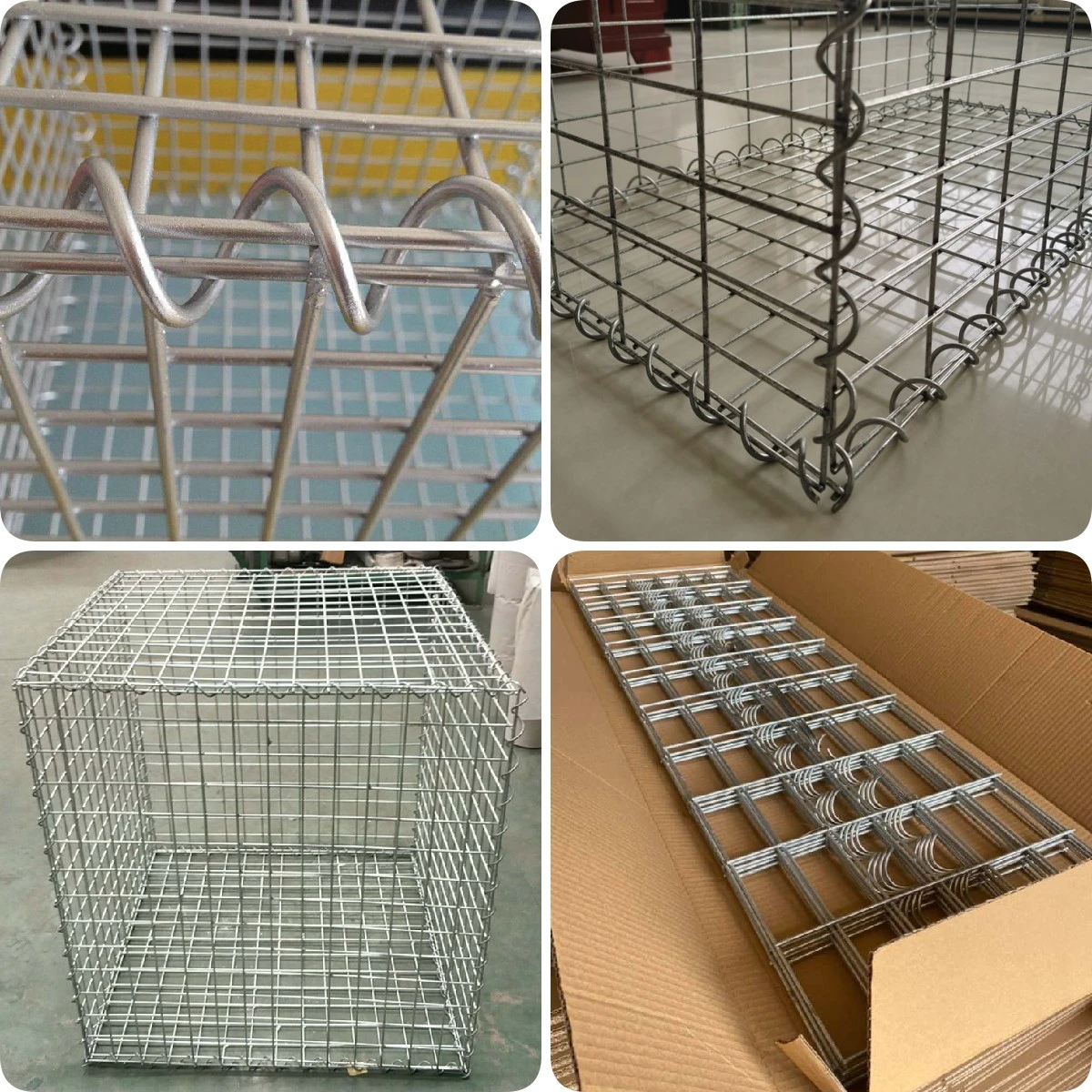 ​​​​​​

Gabion Mesh/gabion basket/gabion fence/gabion box/gabion cage/gabion wall/welded gabion/Gabion Mesh/gabion basket/gabion fence/gabion box/gabion cage/gabion wall/welded gabion